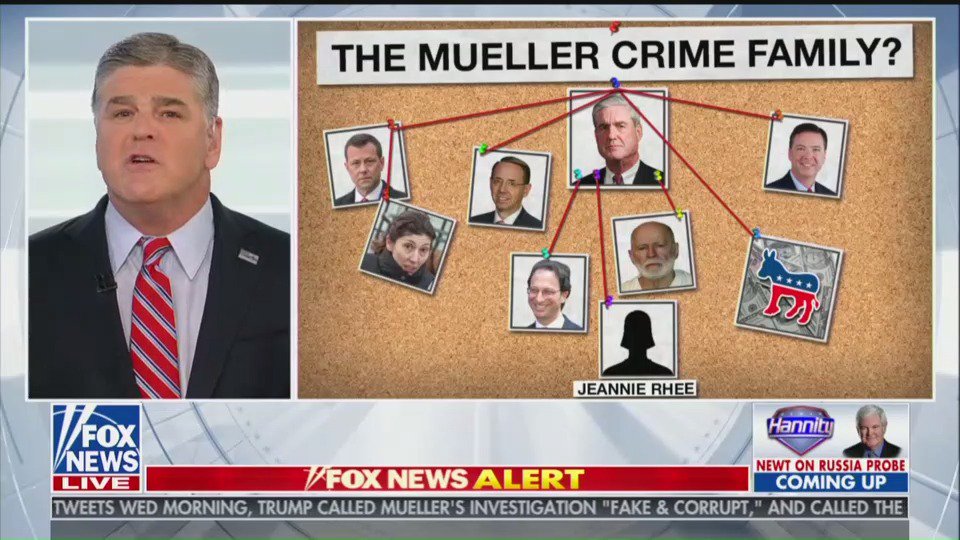 В апреле 2018 у Шона Хэннити на Fox News вышла передача про "Mueller crime family", которая даже для него выглядела совершенно дико. С анонсом передачи выступил Трамп.


Big show tonight on @seanhannity! 9:00 P.M. on @FoxNews

— Donald J. Trump (@realDonaldTrump) April 12, 2018
Some of you are apparently tuning into Hannity for the first time in a while. It's like this every night. Since May, it's been nonstop conspiracy theories aimed at stopping Musller at all costs. He's been prepping his audience for months for Trump to take authoritarian steps.

— Matthew Gertz (@MattGertz) April 12, 2018


Чего мы тогда не знали - Хэннити находился в это время на связи с Полом Манафортом и обсуждал с ним передачу до и после. Заговорщики вычислили, что судья по делу Манафорта в Виргинии был старым республиканцем, который наверняка смотрел Fox News, и что среди присяжных наверняка тоже были зрители Хэннити (самой популярной передачи на новостных каналах).


How do we know it was effective? Because the judge told them so.

Let's look at the timeline of events, shall we?

April 10, 2018 - Manafort writes Hannity:

"We think we can score points in VA on these abuse issues."

(VA = EDVA court) /9 pic.twitter.com/Xl5tOIKxQh

— Tami Burages (@tburages) June 29, 2019
After the show, Hannity and Manafort joked about it.

Did I mention that MANAFORT WAS UNDER A GAG ORDER? /12 pic.twitter.com/5HvEGhlvvf

— Tami Burages (@tburages) June 29, 2019


Расчет частично оправдался.

Накануне слушаний в Конгрессе с участием Мюллера Хэннити тренировал республиканских конгрессменов.



А после похвалил их за прилежную службу.

"I was pleasantly surprised by Republicans today. They all did their job, they were all prepared, and I did have my doubts but they came through."
https://www.mediamatters.org/video/2019/07/24/sean-hannity-praises-republican-performance-mueller-hearings-they-all-did-their-job-they-were-all/224322


Devin Nunes did his homework pic.twitter.com/Y8DzGoMlMM

— The Daily Show (@TheDailyShow) July 24, 2019


Хотелось бы валить все беды на Трампа, но часть ответственности за нынешнее положение дел в стране находится в студии канала Fox News Руперта Мердока.


Sean Hannity, "half kidding and half not kidding," last night to Reps. Devin Nunes, Jim Jordan, and Matt Gaetz: "Any one of you, and maybe even me, we could have had a predawn raid because that is how corrupt this got. Thank you for what you did for your country" pic.twitter.com/K6HaaRHhjk

— Matthew Gertz (@MattGertz) July 25, 2019


В отчете Мюллера Хэннити упоминается несколько раз. В частности, там приводятся показания Райнса Прибуса, первого руководителя администрации Трампа о то, что про встречу Весельницкой он впервые узнал не от Трампа, а от Хэннити: "Priebus recalled learning about the June 9 meeting from Fox News host Sean Hannity in late June 2017".